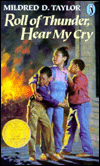 Introduction
Cassie Logan
is a 10-year-old-girl who sees the world as a place full of opportunity. However, over the course of a year she experiences many things that teach her that the world doesn't necessarily work the way it should. She learns that in the South during the 1930's color
does
matter and the difference between black and white can sometimes be the difference between life and death. As she learns the lessons of the world Cassie also comes to appreciate the strength and unity of her family, her one constant in a world of unknowns.
Task
You will have the option of choosing from several tasks.
1. Choose a character from the novel and write a two to three page character anaysis.
2. Design a comic book style presentation that illustrates an imaginary scene from the novel.
3. Write an imaginary one week diary for one of the characters.
4. GROUP OPTION: As a group (3-4 students) you may write a skit.
Process
First, you need to explore this entire WebQuest to get an idea of how it works. After some exploration you can decide which task to choose. After you choose a task you can begin your research in earnest. You will need to explore the links included in the WebQuest, search for others if you need to, utilize library materials, and lean heavily on the novel itelf. You may, of course, talk with Mr. Rice at any stage in your task.
Evaluation
A rubric telling you how each of the tasks will be evaluated is included here. They will be referred to by their number. All final writing tasks must be typewritten or word processed. They should be double-spaced in 12 font with a one inch margin on all sides. A title or cover page must also be included.
The links provided below will be very helpful to you in your work. Please report any broken links to me right away. In addition, I have provided links to two search engines if you need or want to do additional research. Please be advised, however, that if you use these search engines for anything other than searching for assignment related information I will reduce your final grade by one full letter grade.